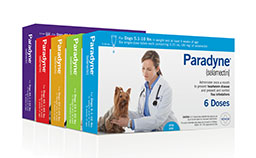 FDA-approved Paradyne is not a messy pesticide. Paradyne is a medicine that is applied topically and works inside and out to protect your dog against fleas, heartworms, and several other harmful and irritating parasites.
Description
About Vethical Paradyne® (selamectin), Topical Parasiticide for Dogs
Fast, simple and easy to use, Paradyne is a nongreasy, low-volume topical medication that protects your dog against fleas, heartworms and other harmful parasites. FDA-approved Paradyne can provide the same protection your dog would get from the combined use of several other products.
Paradyne PROTECTS YOUR DOG AGAINST MULTIPLE PARASITES

Kills Adult Fleas and Their Eggs.
Paradyne kills adult fleas and prevents flea eggs from hatching, breaking the life cycle and getting infestations under control or stopping them before they start.

Prevents Heartworm Disease.
Treating heartworm disease is often difficult and costly — both emotionally and financially — and can take a huge toll on your dog. Fortunately, Paradyne makes preventing heartworm disease easy.

Treats and Controls Ear Mites.
Paradyne is highly effective against these pests, which can cause severe irritation and discomfort and are easily passed from pet to pet.

Treats and Controls Sarcoptic Mites.
Paradyne can prevent infestations of these contagious microscopic mange mites, which cause scabies, a condition that leads to intensely itchy skin and hair loss.

Controls American Dog Tick Infestations.
With monthly dosing, Paradyne keeps dogs protected from this type of tick, which can transmit serious canine diseases.
Application
Product Insert
Important Safety Information:
Do not use on sick, weak, or underweight animals. Use only on dogs 6 weeks and older. Use only on cats 8 weeks and older. Prior to administration, dogs should be tested for heartworms. In cats, side effects may include digestive upset and temporary hair loss at application site with possible inflammation. In humans, Paradyne® may be irritating to skin and eyes. Wash hands after use. For more information, see Full Prescribing Information.